Electric Fence Solution For Cattle

Electric Fence Solution For Small Farm
An electric fence is an excellent tool to use for rotational grazing within a much larger pasture, creating paddocks that allow different types of animals to graze in a certain amount of pasture space within a defined period of time.
Electric fencing can be dangerous but are a helpful tool for people who own farm livestock, horses, or who need strengthen security.
Electric fencing are necessary in order to keep animals safe and contained within the fence, as well as to keep intruders out.
Determine the type of animal you want to fence
Horses are best fenced with conductors that are highly visible, such as electric fence polyrope and electric fence polytape. Slower-moving animals, such as cattle and sheep, can be fenced with steel wire or electric fence polywire. Regardless of the animals you are containing, the structure needs to be strong and stable because nocturnal, feral animals and other wildlife will fail to see the electric fence wires and run into the fence. If the electric fence is not strong, these frequent hits will knock the fence down.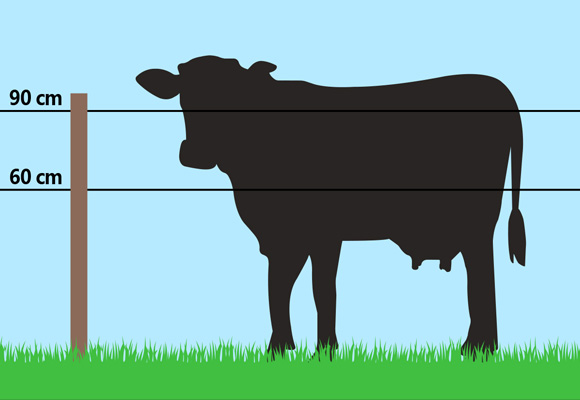 Cows
Electric fences for cows are 0.85 to 1.05 m high with 1 to 2 wires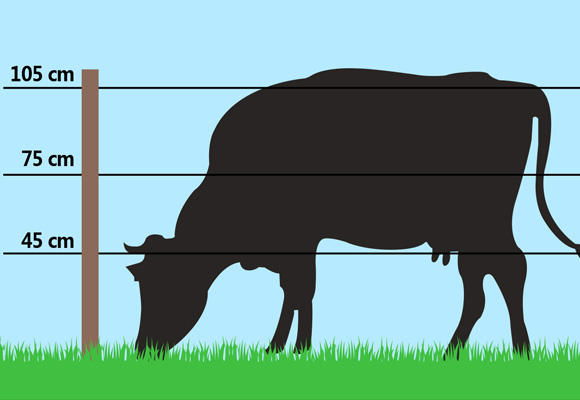 Beef + Dairy Cattle
Electric fences for beef and dairy cattle are 0.85 to 1.05 m high with 2 to 3 wires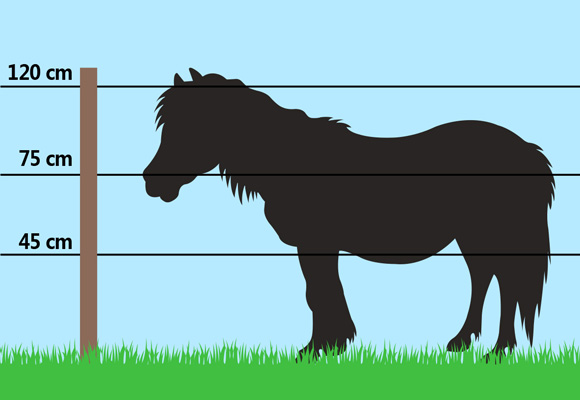 Small Horses
Electric fences for small horses and ponies are 1.05 to 1.30 m high with2 to 3 wires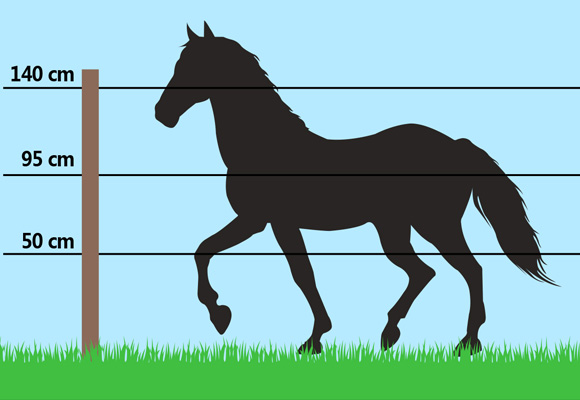 Large Horses
Electric fences for large horses are 1 . 30 to 1.60 m high with 2 to 3conducting wires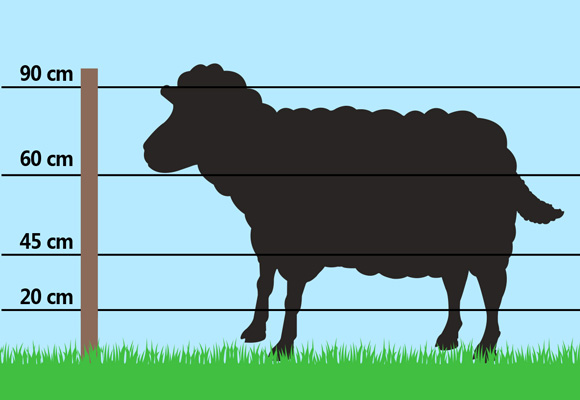 Sheep
Electric fences for sheep are 0.90 to 1.05 m high with 4 to 5 wires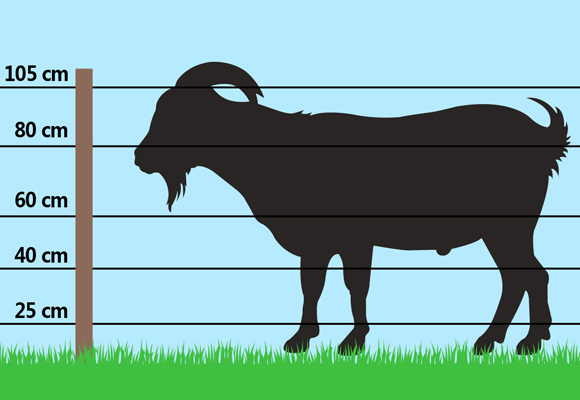 Goat
Electric fences for goats are 1 . 05 to 1.20m high with 4 to 6 wires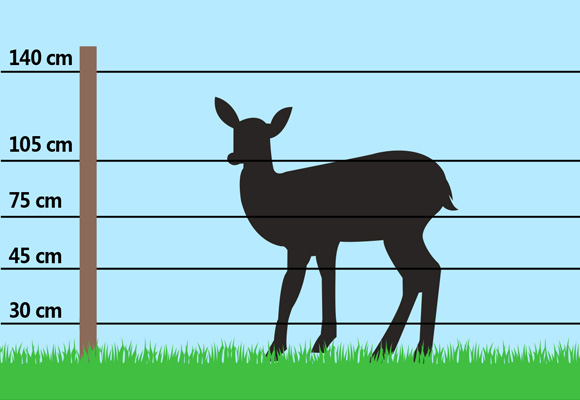 Excluding roe-deer
Electric fences for protecting against roe-deer are up to 1.40 mhigh with 5 to 6 wires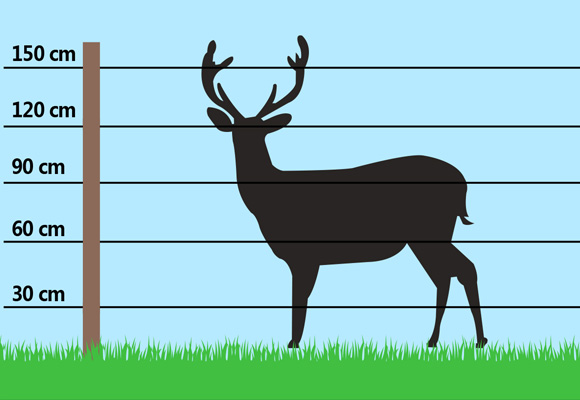 Excluding red deer
Eectric fences for protecting against red deer are up to 1.5 m highwith 5 wires
What Does An Electric Fence Stystem Consist Of?

How to install an electric fence
1

Clear the area of brush, grass, deadfall and trees.

Clear areas of bushes, grasses, dead ends and trees. This will minimize the risk of short-circuiting the fence, thereby greatly reducing the charge.
2

Install electric fence posts

You will need to install the more permanent posts firstly (i.e., wood, steel or concrete post).

Pound in the permanent posts spaced 5m-10m apart, put in at almost exactly 20-30cm deep. It is best to make a mark on the base of each post to get a more uniform set of posts being installed.
3

Mount the electric fence insulators.

Because you need to keep the electricity in the wires and away from the posts,electric fence insulators are important to install. It'll depend on the type of fence wire you purchase.

Because different types of fence wire will have different insulators to match .

Each post through the fire line, need to be installed with one insulator.
4

Install the electric fence polywire.

Depending on how many strands you wish to have for your electric fence, it is usually best to start from the top down.

The top electric fence wire should be at nose-level with your cows (which is around 32 to 36 inches off the ground).
5

The Cross –connection between two wires

The fire wire is connected by connecting buckle/opening bolts at intervals of 30m to make the pulse voltage more uniform and allow the electric fence to function better.

To ensure that all permanent electric fence have effective animal control to the every end of the fence.
6

Build an electric fence gates.

Transfer power under the gate from one side to the other with an underground cable. Permanent and temporary gates should be wired identically.
7

Install an electric fence energizer

An efficient electric fence energizer is the foundation of the basic power supply to your electric fence. The output power of an energizer is specified in joules.
8

Install earth stakes

An electric fence is a circuit in which current flows. The current which travels through the wire, the animals and through the ground cover into the soil, needs to flow back to the electric fence energizer by the way of earth stakes.

For permanently installed mains and electric fence energizer, 3 earth stakes of 1-2m in length are generally sufficient.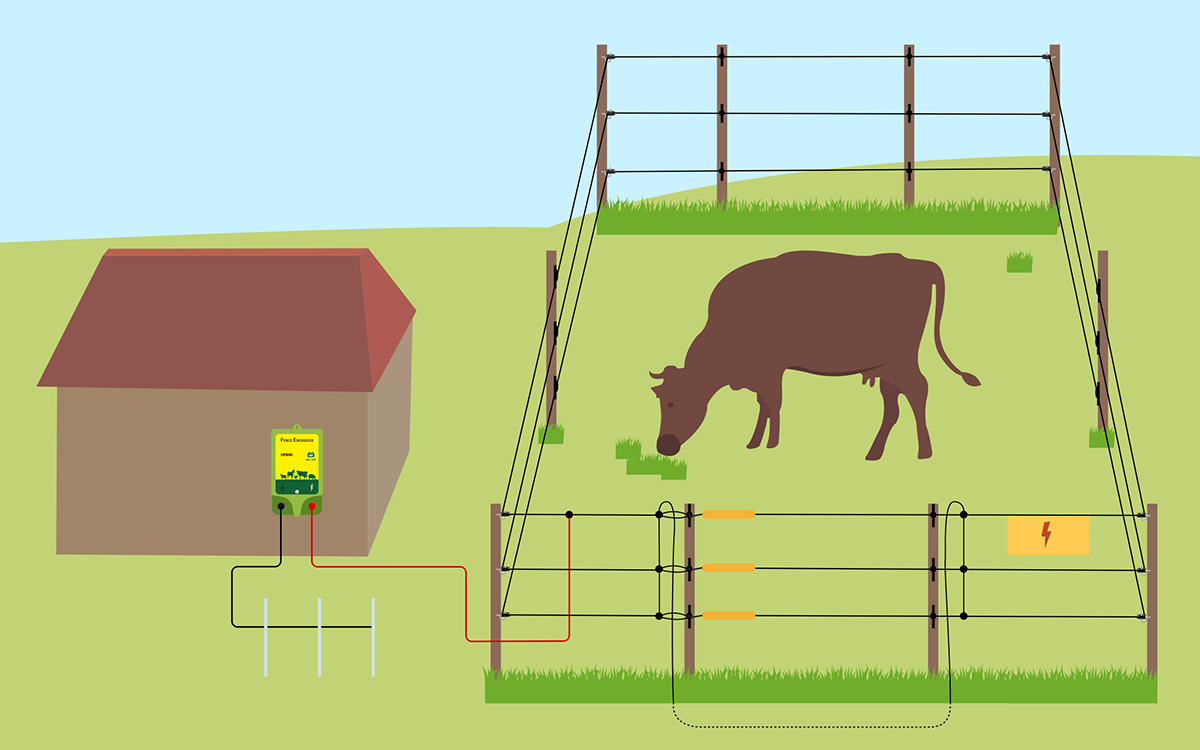 Products details required as below:
HPS as a safety protection solution for small ranches and homes and yards. Provider: Provide related solutions for the protection of small ranches, family farmers, defensive customers, special functions, special animals, and elephant protection for 40 kilometers
Get a Quote on Your Request
Just iln the form below and we will response to you within 24 hours.

Phone

+86-13588830493
Wechat

dunneywang
Email

hps01@hpsunionpower.com